News
Sep 18th Proceedings
We would like to inform you that after "Magnetic Fields in the Universe III" conference we intend to publish proceedings. We kindly ask to send us articles concerning your oral contrbiutions or posters, presented during MFU III in Zakopane. The deadline is November 15th, 2011.
All articles should be sent to the email address: mfuiii@oa.uj.edu.pl. The final proceedings will be delivered to the addresses wchich you gave us during the registration.
Number of pages:
Invited Speakers - 6
Cotribiutions - 4
Posters - 2
Sep 18th Group photo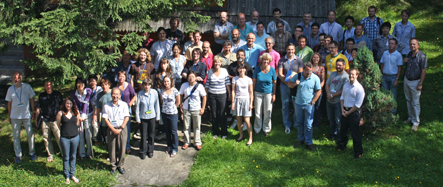 Aug 17th Few website updates
The programme of the conference has been slightly changed.
We published the abstract book as a pdf file.
The list of accepeted posters can be found here.
May 27th Hotel booking - open
The hotel booking system is open! Please go to the registration page and follow the description.
May 17th Hotel booking
The booking system for our hotel is not ready yet. Please be patient. We inform you as soon as it will be ready.
May 1st Standard registration is open
We would like to express to you our gratitude for making a pre-registration. We want to let you know that standard registration has just begun. All scientists interested in participation in the meeting are requested to fill out the registration form (even if pre-registered before) which can be found on the MFU III registration page.
We prepare a preliminary list of topics and invited speakers which you can find here.
For your convenience we gathered all the important dates and deadlines in one place.
Feb 2th · Pre-registration
The pre-registration form is now available. If you would like to participate in MFU III please fill this form. It will help us to find out how many people is going to join our conference.
Jan 12th · Second announcement
Dear Colleagues,
We would like to provide you now with more details concerning our conference "Magnetic Fields in the Universe - III", to be held in Zakopane, Poland, dates August 21-27, 2011. The conference fee is 300 EUR for early registration and 350 EUR for late registration. The conference fee includes: admission to scientific sessions and exhibitions, conference materials, the opening reception, coffee breaks, the conference banquet, and one-day trip to Tatra Mountains. More details concerning the hotel payments (prices, reservation forms) as well as, submitting the abstracts will be sent in the next announcement.
The early registration will begin March 15th, 2011 via this website. The early registration deadline is June 15, 2011.
With kindest regards,
The MFU III Organising Committee