Highly inclined galaxies
Presented here is the total power map of NGC 4569 with B-vectors of polarized intensity overlaid upon the optical image from Digital Sky Survey. The galaxy shows two large lobes with vertical magnetic fields. This is quite strange, as the galaxy has a weak star formation level (hence no strong galactic winds), nor a strongly active nucleus. This picture has been obtained using the 100m Effelsberg radio telescope at 3.6 cm.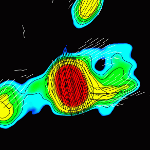 This is a combined map: colours and contours show the distribution of total power at 21 cm (residuals from VLA HI observations) with B-vectors from our Effelsberg 3.6cm data. Note a radio-bright "tongue" extending westwards from the southern disk edge. It may be the result of interactions with the intergalactic wind (the galaxy is very close to the Virgo Cluster. Results were published in Chyży et al. (2006).